The Music
The Corinium Players Guitar Ensemble performs music from traditional Spanish and Latin American guitar music to popular classics and easy listening standards.
Over the years the Ensemble has been extremely fortunate to perform alongside and be coached by some of the UK's finest players, including:
Playing with these hugely talented and successful guitarists is incredibly inspiring for all members of the Ensemble and provides many of the younger children with their first experience of a live classical concert.
The group continues to win prizes at many local music festivals and reached the regional finals of the National Youth Music Festival.
At the International Guitar Festival (GOFI) in Frankfurt, Germany the Corinium Players won the Audience Award with their rendition of Bohemian Rhapsody and Return to Sender.

The Guitars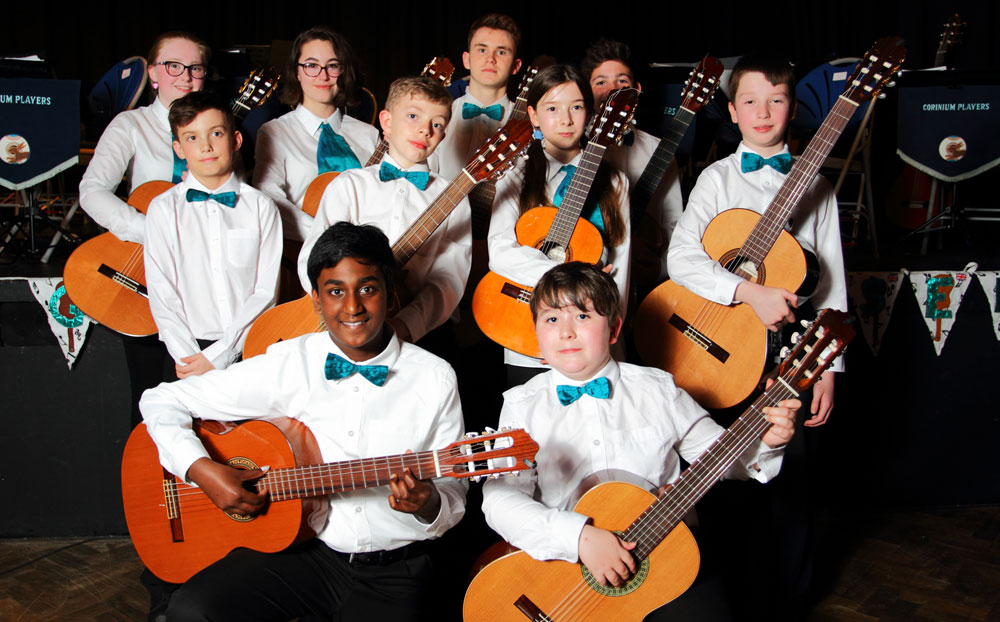 The wide ranging repertoire is enhanced by the use of specialist guitars which reflect the breadth of the traditional string ensemble instruments – the baritone and contrabass adds depth and richness to the sound similar to the double bass, the standard guitar is akin to the cello, the requinto like the violas are versatile and used to create harmony, and the octave gives a brightness and clarity similar to the violin. Much of the music played on these specialist instruments is arranged by the Group's musical director Sandra Dukes.
The guitar family used within the Corinium Players Ensemble
Standard Size -Tenor guitar
Requinto - Tuned to a perfect 4th higher than the standard guitar
Octave - Tuned to an octave higher than the standard guitar
Baritone - Tuned to a perfect 4th lower than the standard guitar
Contrabass - Tuned to an octave lower than the standard guitar